For too long, I felt like there was too much of a gap between the mainstream gaming keyboards of this world and the more enthusiast options. The world of mechanical keyboards has grown from a niche subculture to a PC gaming norm – even once enthusiast keyboard forums now have over a million members. With this in mind, companies have tried to make keyboards appeal to both parties, implementing passionate features without losing the traditional aesthetics of gamers or the target audience.
It's a tough line to walk, but Asus seems to have nailed it with its new ROG Azoth keyboard. It balances the traditional nerdy charm of a gaming keyboard – with its fun, plush RGB OLED display and excellent wireless connectivity – with cool enthusiast-friendly accessories like hot-swappable switches, a pot of lube and a mounted PCB. over gasket for a smoother keystroke feel at lower volumes.
Let's talk design first. The Azoth has the usual Asus ROG charm, with its aggressive look, and the ribbed plastic underside contrasts nicely with the gray aluminum top casing. This mix of metal and plastic also allows the build quality to be absolutely sublime. Although it is a smaller Keyboard at 75%, the Azoth still tips the scales at around 1.2kg, which is pretty darn heavy. So it should come as no surprise to learn that there is no deck flex at all. On the contrary, if you were encountering intruders at home and wanted to hit something that could knock them out, the Azoth would be a surefire way to do that…not that I'm suggesting you hit people or anything.
The excellent build quality and thoughtful nature of the Azoth's construction also extends to its PBT keys. They feel great under your fingertips with a textured finish that makes this keyboard a pleasure to use and also helps to justify the Azoth's higher price a bit more. Additionally, Asus has also included a simple switch on the back of the keyboard to choose between Bluetooth and 2.4GHz wireless modes, rather than requiring you to try to remember an obscure key combination to do the same work; there is also support here for the 2.4GHz USB dongle.
The OLED display in the upper corner is also a practical innovation (borrowed from SteelSeries Apex keyboards) and not only looks cool, but also serves a practical purpose. This is where you can check vital information like the battery percentage as well as control things like the Azoth's media playback and RGB lighting. The display itself is snappy and the icons are crisp, while the switch in the upper right corner next to it looks snappy and arguably works better than a more traditional volume roller.
It's when you step into the Azoth that the passionate side starts to show a bit more, though. There is a layer of foam under the PCB inside the case to dampen sound and reduce any unwanted ping from the case – the acoustics of the Azoth are excellent. Additionally, its joint mounting helps deliver a more springy yet no less satisfying typing experience.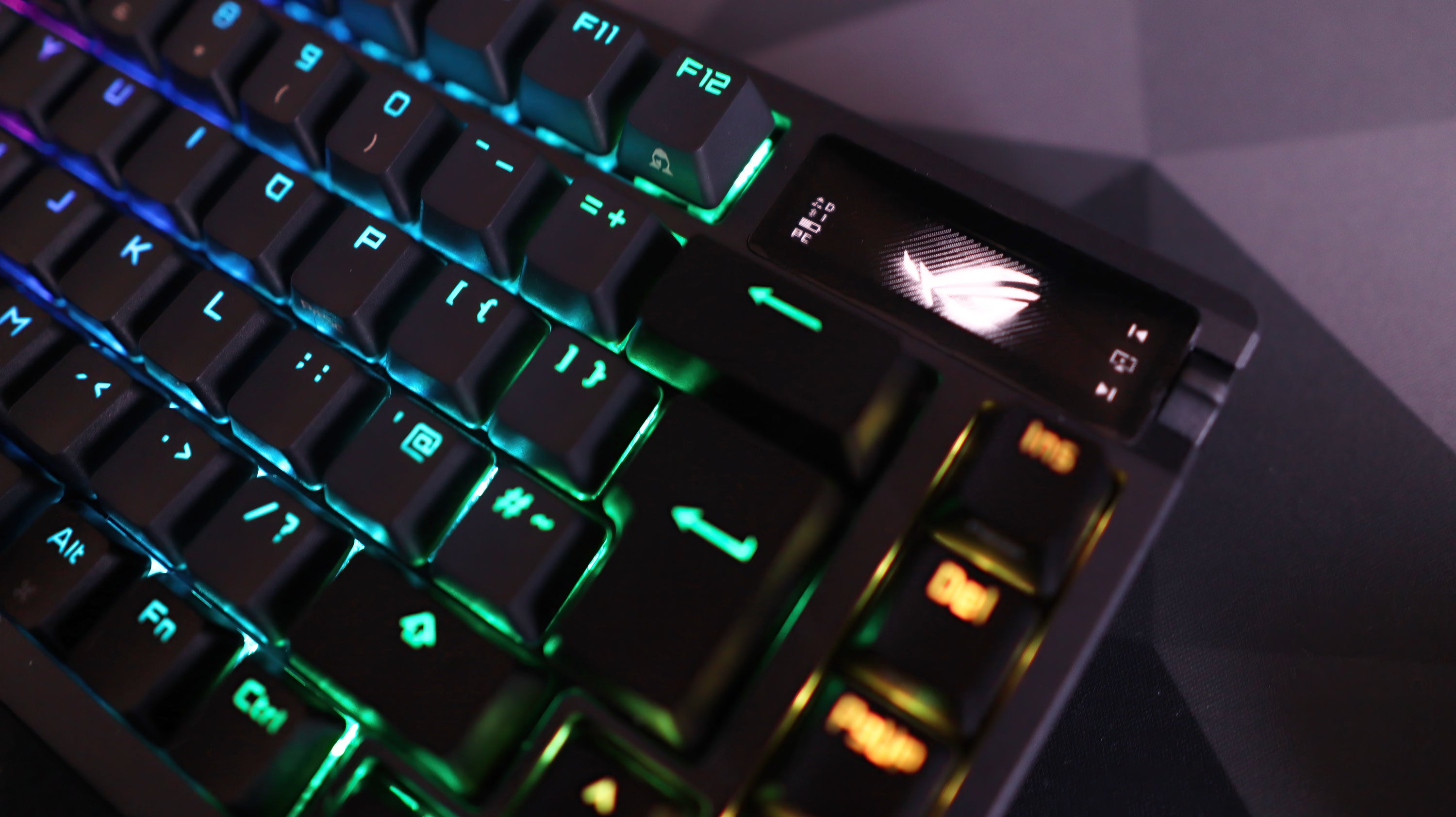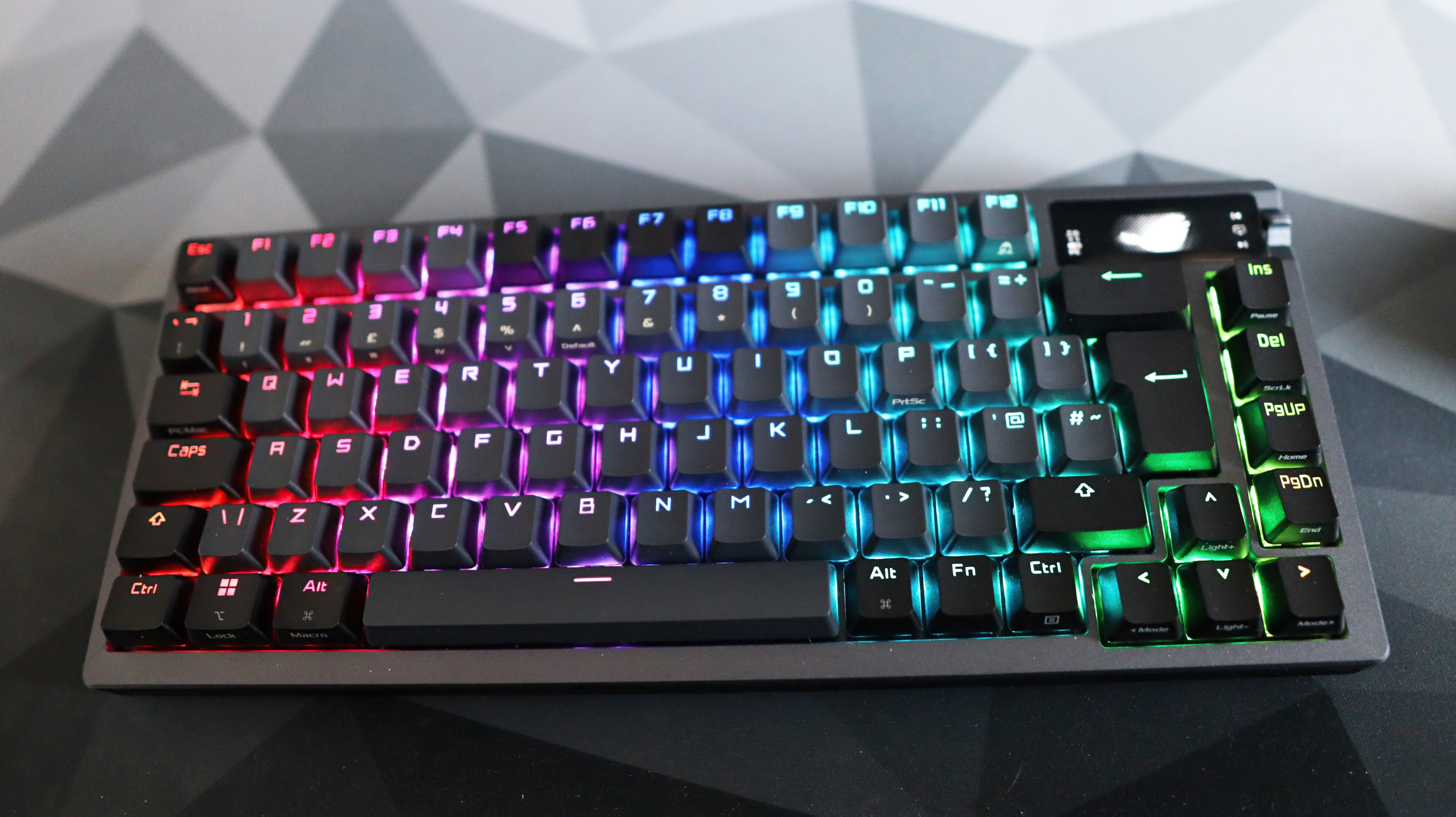 The Azoth uses pre-lubricated NX Red switches, aka Asus' own Cherry MX Red clones, which feel like butter and don't scratch at all. This is largely due to the fact that they are pre-lubricated, which helps to deepen their sound and smooth out the switches. If you want to lubricate them further yourself, there is also a complete lubrication kit inside the box; the first time I see such a thing included. As lightweight, linear switches with a smooth 45g actuation force, they also prove to be a solid choice for gaming. CS:GO is my game of choice, and the NX Reds felt exceptionally good for a stock change, I must say.
With that in mind, you can add any MX-style switches you like, as long as they have the standard 3- or 5-pin mountings, as this board has a hot-swappable PCB. Swapping out some MX Clear switches I had dragged around the Azoth is also easy, and it completely changes the feel of the keyboard. This flexibility is what makes it a great gateway keyboard for those looking to get into mechanical boards on a more passionate level – without the tedious nature of soldering and desoldering switches from a PCB.
I must also confess that the wireless connectivity, especially on the bundled wireless receiver, is brilliant, making the Azoth responsive in both day-to-day work and gaming afterwards. There's also the Bluetooth option, which is gentler on the battery but suffers in terms of latency. Asus quotes the Azoth to last 130 hours on a single charge when you have the OLED display on and no RGB, and for over 2000 hours without an OLED or RGB display. That's pretty serious endurance.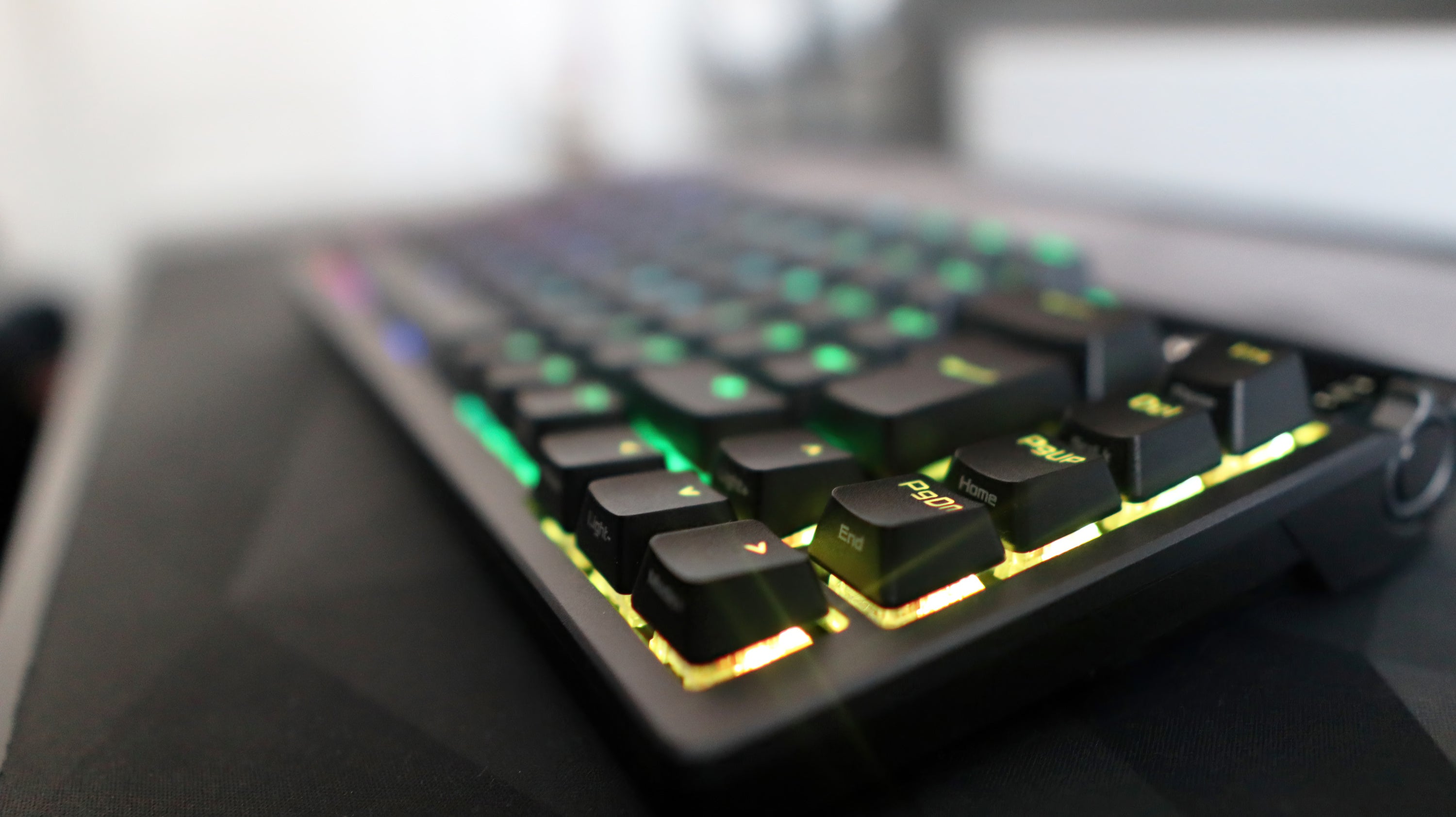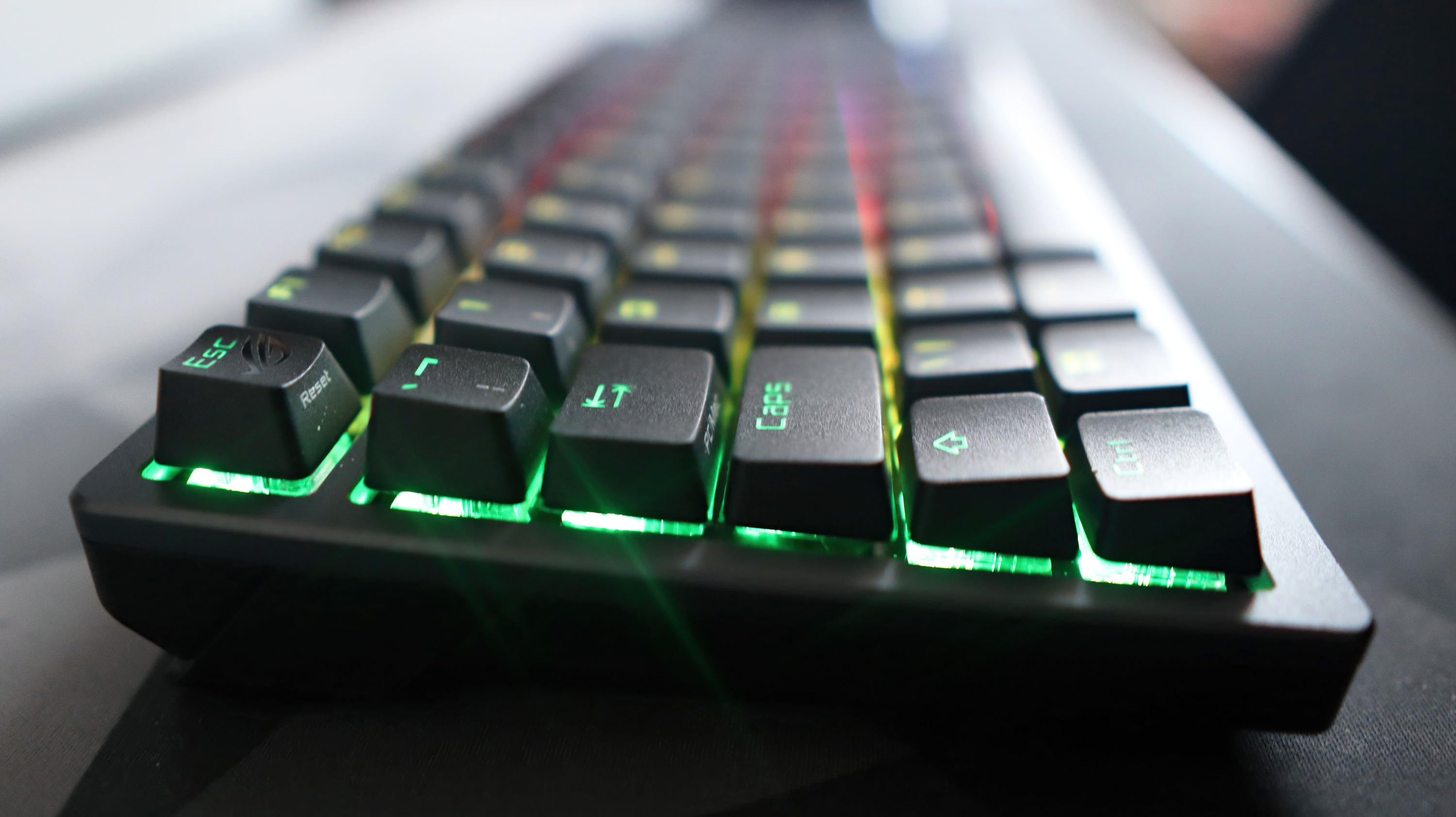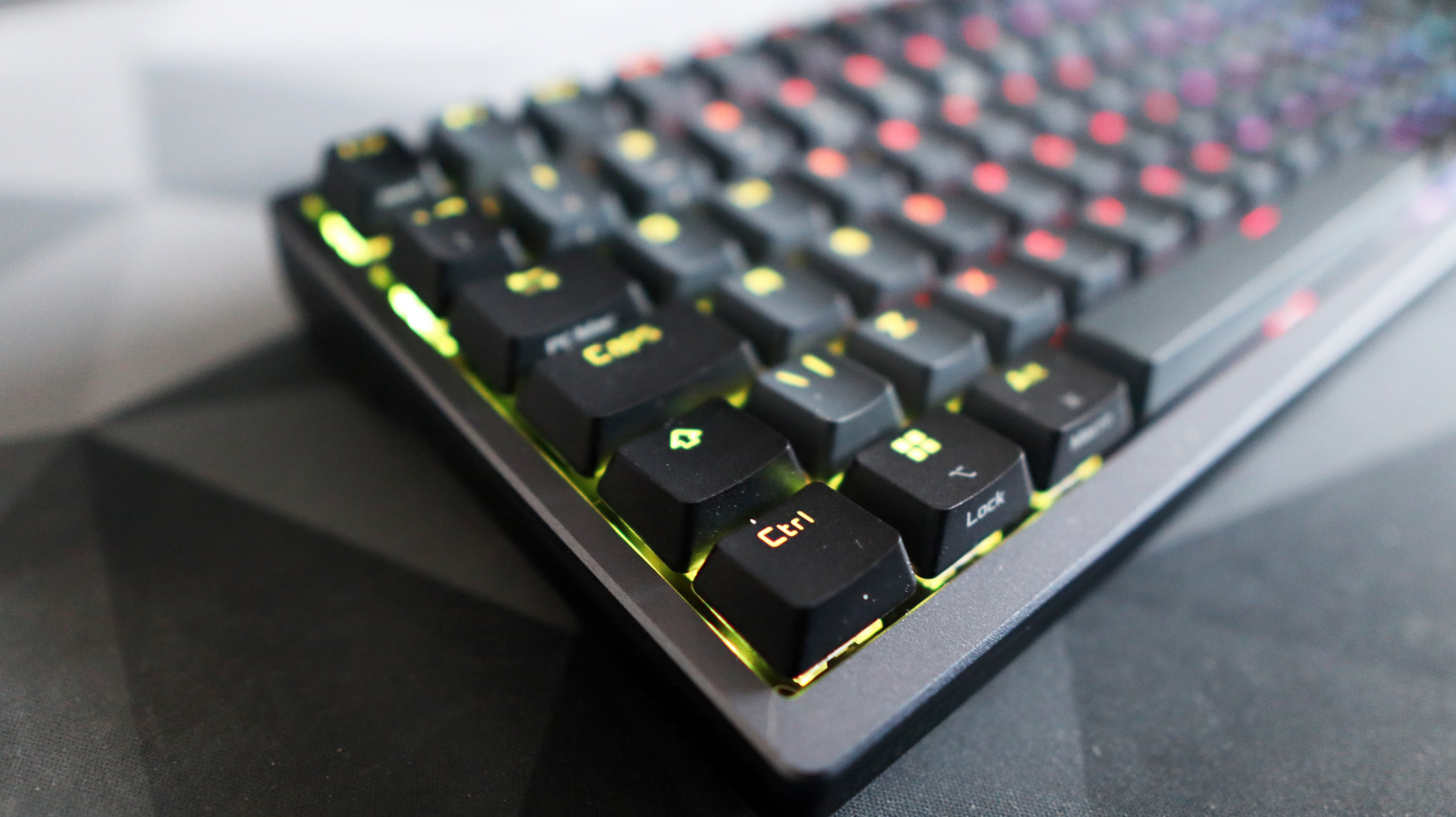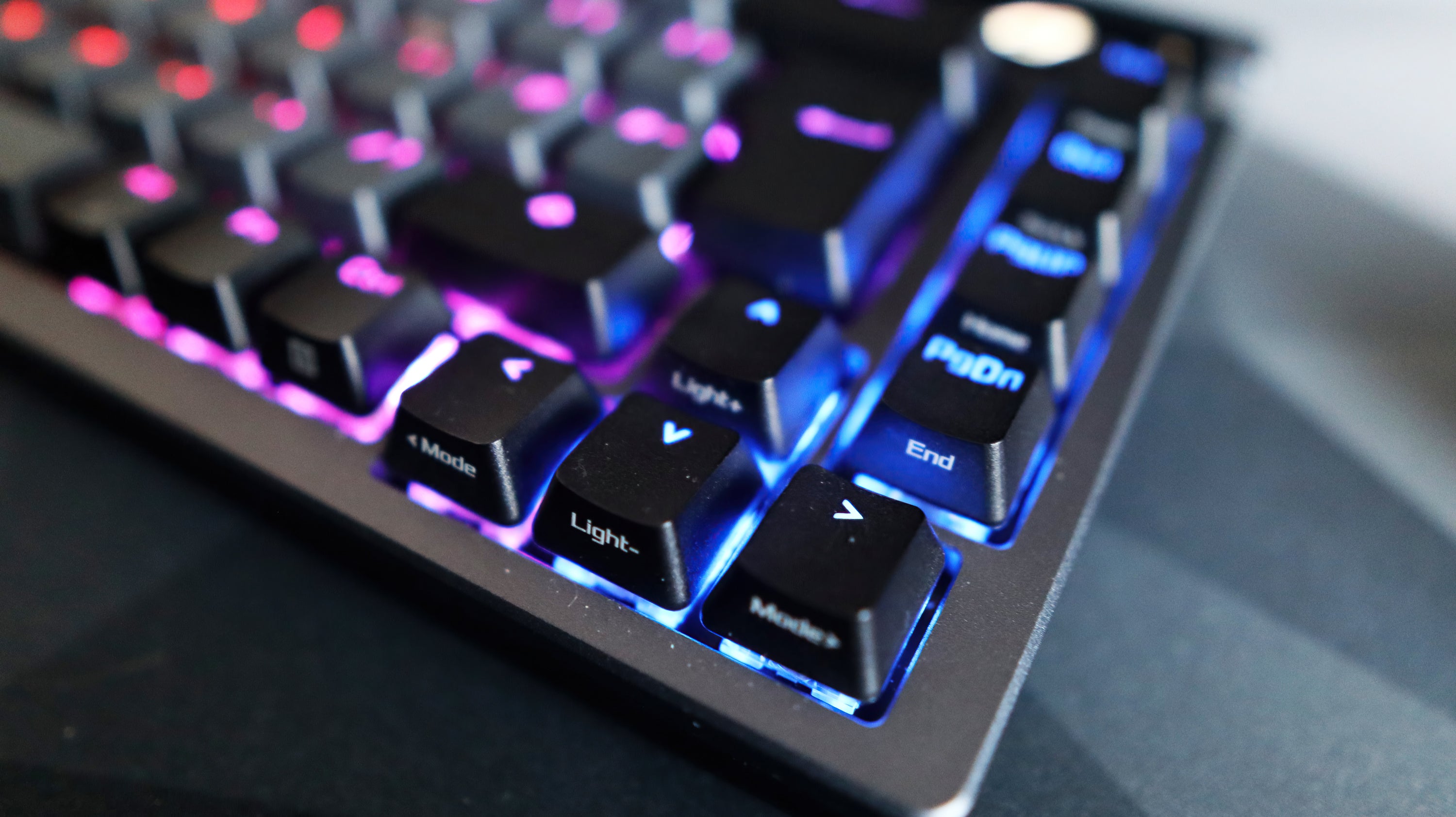 The Azoth's lighting is also dynamic and looks great, but the bundled Armory Crate software to control it is a bit of a pain. It's horribly slow to do anything and sometimes freezes, but the saving grace is the fact that the feature here is probably worth the wait, given that you can control not just that RGB lighting, but the OLED screen to display everything from system information to personalized messages. .
And then there's arguably the biggest bugbear – the price. All of these features mean the Azoth is not cheap, with a price tag of £270/$250 putting it up there was one of the most expensive keyboards I've tested. Of course, that means it's not for everyone, especially given the wealth of more enthusiast level options. from the likes of Keychron which offer a feature set very close to the Azoth for just over half the price.
With that in mind though, the Azoth is one of those products that will hopefully spark a trend by bringing more enthusiast-style features and functions into the mainstream – and hopefully at much lower prices. more "general public".
For the Azoth itself, it's an expensive keyboard, but it might be worth it for everything you get in the box. And if you decide to change how it looks or feels on the road, you can swap out its switches, keys, or cables for something that suits you better. That's the beauty of this hobby, after all.
To view this content, please enable targeting cookies. Manage cookie settings
Article source https://www.eurogamer.net/digitalfoundry-2023-asus-rog-azoth-bridging-the-gulf-between-mainstream-and-custom-mechanical-keyboards