Star Citizen, the ambitious multiplayer space simulator, has been a topic of discussion and anticipation for years. The game, known for its ambitious, and some would say overly so, vision and equally grand budget, has recently reached a staggering milestone. As of August 25th, 2023, Star Citizen has raised more than $600 million in crowdsourcing funds, with contributions from over 4.7 million backers. The official fund-raising tracker has surpassed $600 million dollars:
Funding History of Star Citizen
The journey of Star Citizen has been a long and tumultuous one. The game began its development journey 12 years ago in 2011 and started its fundraising campaign on Kickstarter in 2012. Since then, the game has seen no shortage of financial support from its dedicated community. The Star Citizen community, known for its loyalty and deep pockets, has consistently funded the game via ship purchases, making it one of the highest crowdfunded projects of all time. Below is an overview of Star Citizen funding over time, 2023 is on track to be another record breaking year.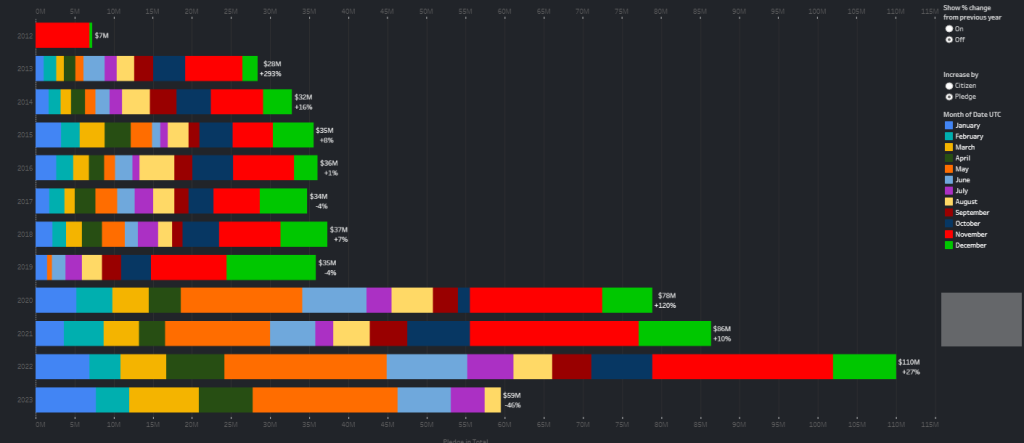 However, the game's development hasn't been without its challenges. Despite the massive funding and over a decade in development, there is still no confirmed full release date for Star Citizen. Currently, the game remains in an Alpha state, with early alpha access available to those who purchase starter packages. Some of these packages come with hefty price tags, costing backers thousands of dollars.
Where is Squadron 42?
Squadron 42, the single-player campaign of the ambitious space simulation game Star Citizen, has been a beacon of hope and excitement for fans since its announcement. However, as the years roll on, that beacon seems to be dimming, leading to growing concerns and frustrations among its backers. The current state of Squadron 42 development is ostensibly outlined in the roadmap: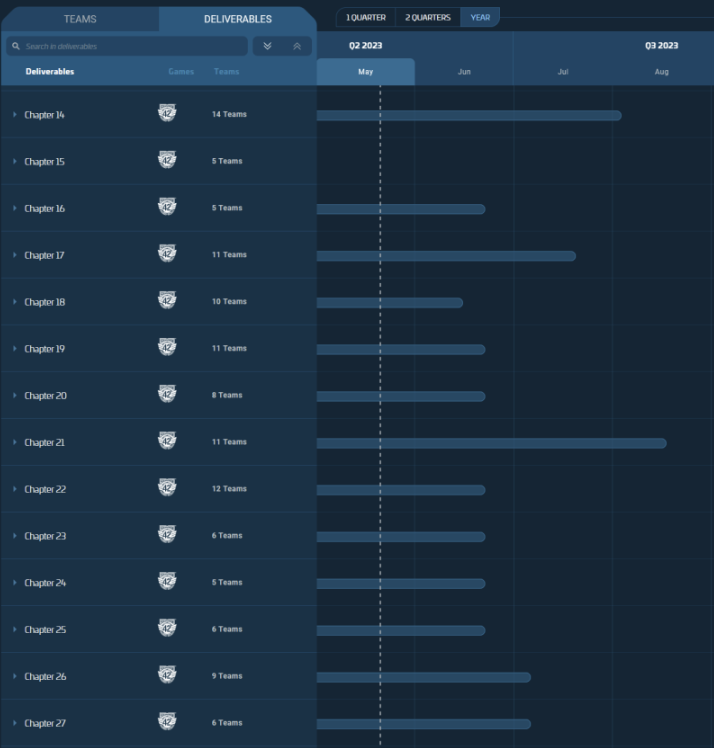 The development journey of Squadron 42 has been a long and winding one. Originally announced for release in 2014 during the Star Citizen Kickstarter campaign, the game has faced multiple delays. By mid-2019, Cloud Imperium Games (CIG) hinted at a beta release by the end of Q2 2020, only to push it further to an estimated Q3 2020. That date too has come and gone, with no significant communication from the studio regarding the game's release status. This lack of clarity has left backers in the dark, with some speculating that the game might be anywhere from being in beta to being over five years away from release.
The concerns don't end with the delays. Fans have been perturbed by the radio silence surrounding Squadron 42, especially given its six-year lag behind its original delivery target. The game, envisioned as a cinematic, story-driven single-player adventure, promised a star-studded cast featuring the likes of Mark Hamill, Gillian Anderson, Gary Oldman, and Mark Strong. While flashy trailers showcasing these Hollywood actors have been released, the game remains unplayable for backers. Chris Roberts has released many ostensible deadlines like the one below: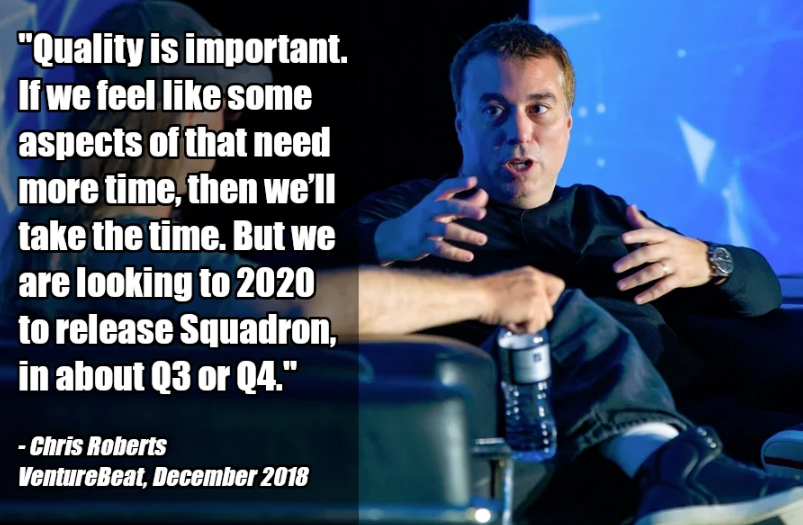 CIG's Chris Roberts, in an attempt to address these concerns, stated that Squadron 42 would be released "when it is done" and not merely to meet a deadline. He emphasized the studio's commitment to delivering a polished and high-quality game, even if it meant further delays. Roberts also acknowledged the studio's shortcomings in updating the community about the game's progress, citing the challenge of not wanting to give away the story and experience.
However, these explanations have done little to quell the growing unease. The gaming community's trust has been tested, especially when juxtaposed with the massive funding Star Citizen has received. And the anxiety should be increased given a new milestone in funding.
The End is Nowhere in Sight
While the journey of Star Citizen has been filled with ups and downs, its financial milestones and the unwavering support of its community are undeniable. Only time will tell if the game will live up to its grand vision and the immense expectations of its backers. With 600 million dollars in funding, Star Citizen stands as not just the most expensive video game ever developed but possibly the most expensive media property in history. The future of both Star Citizen and Squadron 42 remains uncertain, with no full release in sight for either title. As the gaming community waits with bated breath, many are turning to other space exploration games, like Starfield, to satiate their cosmic cravings.
Article source https://blog.playerauctions.com/star-citizen/star-citizen-has-passed-600-million-in-backer-funding/